Behind the scenes – A little visit to MyDinner's Kitchen
Time to go! We are Moving! We are leaving behind central London to grow-up and settle (for a little while) just on the outskirts of London.
I really wanted to participate in a Blog Event from a German Blog Kleiner Kuriositätenladen. The Chef Cook Steph  called up all food bloggers to give their readers a glimpse of what happens behind the scenes and I decided "why not". Even if you do not understand German have a look at her blog because her food pics are out of this world!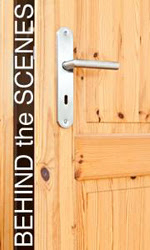 For the last six years I have been living in this two bedroom flat in Stepney Green in East London. I moved in when it was newly built; and loved every minute of living here. It is close enough to the heart of the city so that in 10 minutes we can be right in the heart and bustle of London's busy city life if we want, but far enough out so that it is quiet enough to enjoy some residential comfort.
I am quite lucky that for a London flat, I have a relatively big kitchen. I need one! You will not believe how much kitchen equipment I have. (probably more than I have clothes and that's a lot). It is not normally that tidy. Usually you will find a lot of cookbooks on the surfaces to get inspiration from, and something cooking on the stove or baking in the oven.
On the fridge we have some German Magnetic Fridge Poetry. I gave them to my husband for Christmas – in the hope that he will pick up some German. Funny what kind of phrases people came up with. These are mostly from visitors who became creative in my kitchen 🙂
My spice cupboard is full of spices that i picked up in Germany, or England, or from the Chinese shop near me for my Filipino recipes. Believe it or not I do need all those spices!
The flat is situated right on Regents Canal. In one direction if you walk for about 10 minutes you reach the Thames, whereas if you follow the other direction you can go all the way through to Birmingham if you really want to. On one side we can enjoy the view from Canary Wharf, on the other side you can see a little lock.
Unlike other bloggers; I do not have a desk. I normally sit here with my laptop on my lap and write my latest blog posts while watching cheesy American TV shoes such as Suits, the Good Wife or Mad Men.
Thankfully the flat is quite bright, which makes a lot of difference to my food pictures. Apparently natural light is best; which we had plenty off. My plants like it as well.
The little table has been great for some dinner parties- but unfortunately I could only squeeze six guests maximum onto it. Something I hope to change in house.
Anyway hope you enjoyed this little glimpse behind the scenes.
(Visited 185 times, 1 visits today)